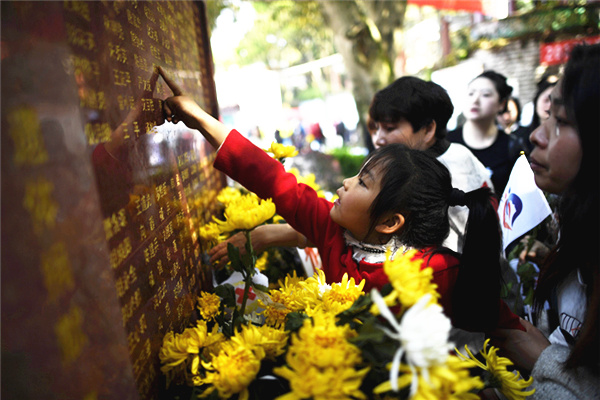 Organ donation program shifts into high gear
"I do." Those two words brought Liu Yuan, a father of two boys, to the verge of tears. But it was not a marriage vow; it was an affirmative response from a relative of an organ donor.
Children read the names of donors at the opening of a memorial park in Chongqing, southwest China, April 1. [Photo/China Daily]
In China, every post-death organ donation must be approved by relatives. As the organ donation coordinator at Youan Hospital in Beijing, the 38-year-old spends his days approaching the families of potential donors, procuring organs and arranging funeral services.
This month, he and 21 colleagues from Shanghai, Beijing, Guangxi Zhuang Autonomous Region, and Yunnan, Hubei and Jiangxi Provinces, will begin training postgraduate students in techniques of donation and transplantation of organs.
They believe the training will be a key step in China's progress towards a more professional approach to organ donation in line with international practices.
Skills shortage
Liu, a liver transplant surgeon, had never treated organ donation before taking office in 2013.
Initially, he was reluctant to take the job and mistakenly thought that the job of a coordinator involved a little more than "persuading people to donate".
His predecessor resigned because there had been no donation for over six months.
Liu has read books and taken classes in the hopes of communicating better with the families of potential donors. He made his first organ donation over a drink.
A 13-year-old girl with a brain tumor had been declared brain dead and was being kept alive by machines, but her family was reluctant to donate her organs.
Liu invited his father for a drink, and the two men formed a bond. He recalled how they cried all night long, not only for the suffering of the family, but also for the regrets of a father.
His camaraderie and understanding worked. The next day, the father agreed to donate his daughter's liver, kidneys and corneas, helping at least three people.
In the past four years, Liu has donated more than 30 organs. But failures "could be more than five times that number."
He understands that the main obstacle to donating is that many conservative older people still firmly believe in the tradition of burying the dead intact. Even his own parents disagree with organ donation, he said.
His job resulted in him being verbally assaulted and he was even accused of being involved in organ trafficking.
China banned the use of organs from executed prisoners in 2015, making voluntary donation the only legitimate source of organs.
As the system has become more fair and transparent, the number of donors has increased and public awareness has increased.
So far, around 10,000 people across the country have donated 28,000 organs. Last year, 4,080 people made a donation, while in 2010 the number was only 34. Almost 300,000 people have also expressed a wish to donate.
Growing awareness of the practice has seen authorities speed up the training of doctors to address a skills shortage.
Liu saw several cases where ICU staff members failed to maintain organ functions from potential donors, which resulted in organ failures and affected the quality of donations. These failures are the result of a lack of expertise, he said.
In response, this month, seven universities will begin offering postgraduate courses in organ donation and transplantation, as part of the KeTLOD (Knowledge Transfer and Leadership in Organ Donation of Europe) project. to China).
140 postgraduate students are expected to enroll in the project, which was jointly founded by the Erasmus + program of the European Union and Chinese universities.
Liver transplant specialist Xue Feng will teach the course at Shanghai Jiaotong University, which will fill a gap in medical education in China.
"We have been lagging behind Western countries for almost three decades. We have to work harder," she said.
Online course
In February, Liu and his 21 colleagues joined a special online course, in which they were interviewed by organ donation specialists from Spain, Italy and France.
The specialists offered their expertise and experience in clinical approaches, as well as management and dissemination strategies for organ donation, in accordance with European directives.
The three-month online course was delivered through a focus group on a social networking app that allowed Chinese doctors to read lecture notes on their smartphones.
The surgeries were presented via diagrams and videos, while an online tool helped translate English lessons and instructions into Chinese.
In May, Chinese healthcare professionals spent a week studying at the University of Barcelona in Spain.
The training will enable them to teach postgraduate students at universities over the next two years.
According to Marti Manyalich, president of the Institute for Donation and Transplantation in Barcelona, ​​the training is not only about sharing knowledge, but also about tailoring the course to Chinese needs.
"Seven universities is not enough. We need to train more Chinese professionals in more colleges in the coming decades," he said.
Spain has the highest organ donation rate in the world. Last year, the figure stood at 43.4 donations per 1 million people, while in China the number was only 2.98.
However, in 2010 the number in China was 0.03 people per 1 million.
One of the reasons for Spain's success is that it has pioneered the professionalization of donation programs. From the 1980s, the University of Barcelona started offering postgraduate courses in organ donation, which were recognized and followed by other European countries.
Since then, Spain has taken the lead in setting up training courses and international exchanges, offering courses to more than 10,000 professionals around the world.
China joined the project in 2013. Wang Lu, a colleague of Liu who is also the organ donation coordinator, is one of the "seed doctors". She was impressed by the in-depth and open discussions, script teaching and the Socratic teaching method, all of which are rare in Chinese training programs.
Liu said he learned that sometimes being silent while approaching family members can be more effective than speaking.
Meanwhile, Zhang Lize, a neurologist who participated in the training, said that humility gains confidence: "This also applies to other aspects of the job.
Better prescription
However, despite recent successes, some doctors still question the benefits of organ transplants and are unwilling to help find potential donors among their patients. Some lack knowledge, while others prefer to avoid potential tension with patients.
In some hospitals, organ procurement organizations – assessment and procurement teams – are poorly organized or severely marginalized, and there are no offices or full-time coordinators.
Chen Xiaosong, coordinator at Renji Hospital in Shanghai, is worried about finding doctors who want to teach the course and students interested in studying the subject, and no textbook has yet been translated into Chinese.
Hou Fengzhong, deputy director of the Chinese Administrative Center for Organ Donation, said that although many remarkable achievements have been made in the past 10 years, China's organ donation program is still at a rudimentary stage. and the company must work together to ensure faster progress in the future.
He called for closer cooperation in the legal, economic, political and medical sectors.
He also suggested that the Department of Education come up with supportive policies to encourage more colleges, and even middle or primary schools, to host classes on organ donation.
Li Wenlei, a liver transplant specialist and head of the organ donation course at Beijing Capital Medical University, said education is "the best prescription" for the national program.
"If organ donation is a river, then the medical staff are working downstream, dealing with individual cases," Li said.
"But when organ donation becomes part of the education system, they can go upstream and influence a whole generation."